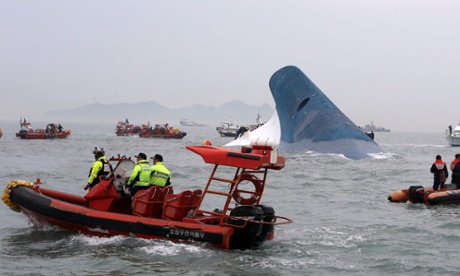 The captain who abandoned hundreds of schoolchildren as the Sewol ferry capsized and sank off the coast of South Korea in April has been sentenced to 36 years in prison, on the same day as officials called off the underwater search for those still missing.
A court in the city of Gwangju found Lee Joon-seok not guilty of murder, but convicted him of gross negligence.
The overloaded Sewol capsized on 16 April while making a turn during a routine voyage to the holiday island of Jeju. Lee abandoned the sinking ship with hundreds of people, most of them teenagers on a school excursion, on board.
Only 172 of the 476 passengers were rescued. Nearly seven months after the disaster 295 bodies have been recovered but nine are unaccounted for. Of the 304 confirmed dead or still listed as missing, 250 were pupils from the same high school.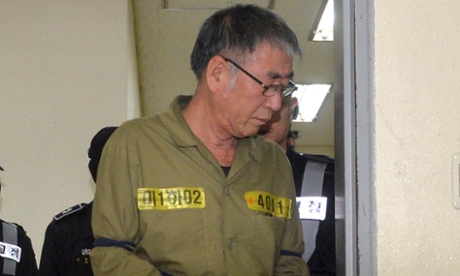 Prosecutors had demanded the death penalty for Lee, 69, after branding him a liar who abandoned the Sewol despite knowing that hundreds of trapped passengers would probably die.
The court sentenced the Sewol's chief engineer, Park Gi-ho, to 30 years in prison for homicide for not assisting two injured fellow crew members. The remaining 13 surviving crew members were found guilty and given terms of between five and 20 years on various charges including criminal negligence and accidental homicide.
The captain and his fellow defendants, bound and handcuffed, were brought to the courthouse four hours before the 1pm hearing. Lee, wearing glasses and a green prison uniform, was seen under security escort climbing a set of stairs, his close-cropped head bowed.
Relatives of the victims voiced their disgust in the courtroom when the sentence was red out. One reportedly invited the judge, Lim Joung-youb, to free Lee and his crew so the families could "punish them ourselves".
The Sewol sinking – South Korea's worst maritime disaster in decades – stunned the entire country and raised fraught questions about what it had sacrificed in its rush to development.
Culled from
The Guardian.