Law graduate from London found guilty of spreading 'propaganda against regime' following secret hearing in Iran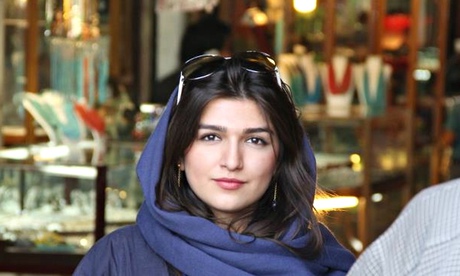 A British-Iranian woman detained in Iran for trying to watch a volleyball game has been sentenced to one year in a notorious prison, according to her family and lawyer.
Ghoncheh Ghavami, 25, a law graduate from London, was
found guilty of spreading "propaganda against the regime"
following a secret hearing at Tehran's Revolutionary Court.
Ghavami has been detained for 127 days in prison since being arrested on 20 June at Azadi ("Freedom" in Farsi) stadium in Tehran where Iran's national volleyball team was to play Italy. Although she had been released within a few hours after the initial arrest she was re-arrested days later.
Speaking to the Guardian, Ghavami's brother Iman, 28, said the family was "shattered" by the court verdict.
"We are really disappointed because we felt she would get out on bail immediately. She's been through a lot and now it's a full year sentence and she's already served four months," he said.
No reason was given for the conviction though Ghavami had been accused of spreading propaganda against the regime, a broad charge often used by Iran's judiciary.
Ghavami's parents, who have been based in Tehran throughout their daughter's ordeal, were too distressed to talk after Saturday's court hearing - which they were not allowed to attend. "I found out the verdict from the lawyer. My parents were with him but were too emotional to talk. As we speak my parents are scrambling from one office to another to see if we can get leniency or bail."
Ghavami's lawyer Alizadeh Tabatabaie was quoted in Iranian media as saying: "According to the verdict she was sentenced to one year."
Asked if the sentence could be reduced, Tabatabaie, who has not been allowed to visit his client, said: "Considering that Ghoncheh Ghavami has no criminal record, the court can alleviate the verdict.
"In a meeting Ghoncheh had with her mother on Wednesday, she said no new charges have been filed against her."
Earlier this month Ghavami
spent 14 days on hunger strike
in protest at her detention, which has drawn condemnation from the highest political level. David Cameron underlined his concerns in a meeting with Iran's president Hassan Rouhani in September at the UN general assembly in New York.
Iman, from London, said he hoped his sister would be moved to another wing of the notorious Evin prison, where she has been held since June in relative solitary confinement in a jail known for housing high profile political prisoners and activists.
He said: "She will be in the same prison but we hope she's going to be transferred to a general section of it where she can interact with other people because now she's being held in solitary confinement. It's hell for everyone who is kept there."
A
petition on the site Change.org
started by Iman has amassed more than 700,000 signatories calling for Ghavami's release.
Culled from
The Guardian.