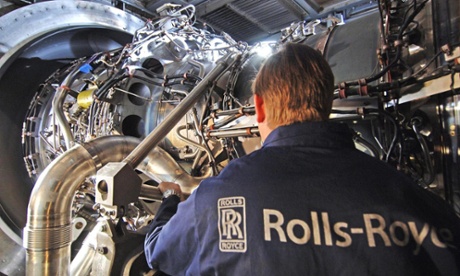 Rolls-Royce has announced it is cutting 2,600 jobs – mostly in its aerospace division – within the next 18 months as well as the sudden departure of its finance director.
The company, which employs 24,800 workers in Britain out of 55,200 worldwide, said technological changes had enabled it to "increase output and improve efficiency".
The job cuts come three weeks after the company
issued a major profit warning
, which wiped £2bn off its market value. The company said that finance director Mark Morris had decided to leave the company after 27 years.
John Rishton, Rolls-Royce's chief executive, said: "We are taking determined management action and accelerating our progress on cost. The measures announced today will not be the last, however they will contribute towards Rolls-Royce becoming a stronger and more profitable company."
The company provided no details about what countries or sites would suffer job cuts. But Rishton said: "We will work closely with employees and their representatives to achieve the necessary reductions on a voluntary basis where possible, while making sure we retain the skills needed for the future."
The new finance director is David Smith who joined Rolls-Royce earlier this year. He is currently chief financial officer of the aerospace division.
Rishton said: "David has an exceptional track record as a finance leader. Since joining Rolls-Royce he has demonstrated determination, discipline and intellectual rigour.
"These are qualities that will be essential in returning Rolls-Royce to its long-term path of profitable growth. I am grateful to Mark Morris for his hard work over many years and wish him well for the future."
Culled from
The Guardian.