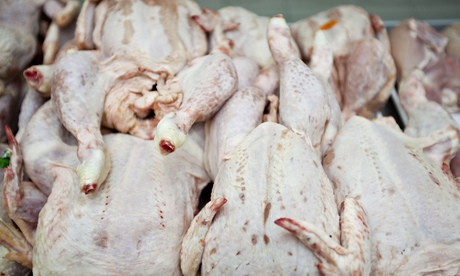 Eight out of 10 fresh chickens bought from UK supermarkets this summer were contaminated with the potentially lethal food-poisoning bug campylobacter, the food watchdog has said, warning that not one individual chain is currently meeting national targets over the issue.
Following six months of testing, an average of 70% of supermarket chickens proved positive for campylobacter on samples of skin. Within that, the Food Standards Agency said, the more recent three months of tests from May to July showed an 80% incidence. The bug tends to be more prevalent during the summer, but consumer groups expressed shock at the soaring levels.
Across the six-month period 18% of the nearly 2,000 chickens tested contained the highest levels of campylobacter, the levels seen as most likely to make people ill. 6% of packaging showed signs of the bug.
Asda was the worst-performing retailer, with 78% of its chickens taken to labs testing positive for campylobacter over the period, followed by Co-op (73%), and then Morrison's, Sainsbury's and Waitrose, all on 69%, with Marks & Spencer showing an incidence of 67% and Tesco the best at 64%.
Culled from
The Guardian.