Two men armed with axes, knives and a pistol killed four Israelis and wounded several others in a Jerusalem synagogue on Tuesday in the worst such attack in years.
The Palestinian assailants were killed in shootout with police at the scene, a synagogue in the ultra-orthodox Har Nof district in west Jerusalem.
The Israeli prime minister, Binyamin Netanyahu, called the attack a "cruel murder of Jews who came to pray" and said Israel would "respond harshly".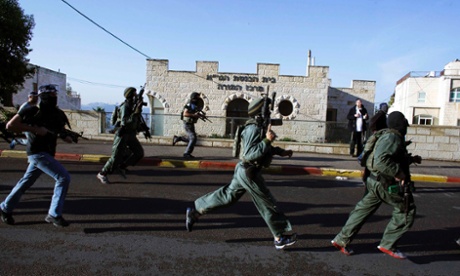 Violence in Israel and the Palestinian Territories has surged over the past few weeks.
Five Israelis and a foreign visitor have been deliberately run over and killed or stabbed to death by Palestinians in the past month. About a dozen Palestinians have also been killed, including those accused of carrying out those attacks.
Residents trace the violence in Jerusalem back to July when a Palestinian teenager was burned to death by Jewish assailants, an alleged revenge attack for the abduction and killing of three Jewish teens by Palestinian militants in the occupied West Bank.
The summer war in Gaza and a row over access to a Jerusalem compound sacred to Muslims and Jews alike have also been triggers for violence.
Culled from
The Guardian.