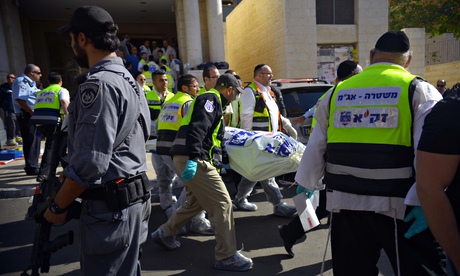 Five Israelis were killed in a frenzied assault by two Palestinians who targeted worshippers at a Jerusalem synagogue, the latest in a series of deadly attacks that many fear is pushing the city to the edge of a dangerous escalation in violence.
Four of the people killed were rabbis, three holding joint US citizenship, one with dual British citizenship. The fifth victim was an Israeli policeman, who succumbed to his injuries late on Tuesday night.
The attack was greeted by international condemnation, and Israel's prime minister, Binyamin Netanyahu, vowed to "respond harshly", describing the attack as a "cruel murder of Jews who came to pray and were killed by despicable murderers".
The two assailants, cousins Ghassan and Uday Abu Jamal, attacked the worshippers with meat cleavers and a gun during early-morning prayers before they were killed by police officers. The circumstances of the incident have added to the sense of crisis in Jerusalem.
Witnesses described a chaotic and bloody scene inside the synagogue as police and the attackers engaged in a shootout at the building's entrance. Photographs distributed by Israeli authorities showed a man in a prayer shawl lying dead, a bloodied butcher's cleaver on the floor and prayer books covered in blood.
Many in Israel have been alarmed by the religious dimension to the killings. Violence in Jerusalem, areas of Israel and the Israeli-occupied Palestinian territories, has surged in recent months, exacerbated by tensions over a key holy site revered by Muslims as the Noble Sanctuary and Jews as the Temple Mount.
Culled from
The Guardian.