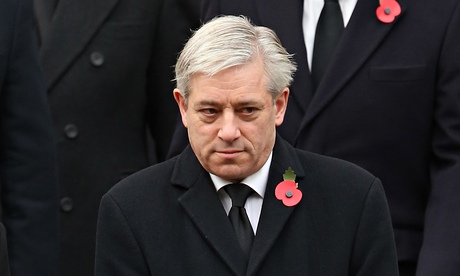 David Cameron has withdrawn his commitment to holding a vote on the European arrest warrant in a move that the Speaker of the House of Commons said would be regarded as "contemptuous" by the public.
MPs from all parties lined up to criticise a government "stitch-up" as it emerged they would be allowed to vote on only 11 relatively minor EU justice and home affairs measures, not the whole package of 35 that includes the European arrest warrant.
The controversial warrant is backed by all three party leaders but opposed by dozens of Conservative backbenchers over fears that Britons are being sent for trial abroad for minor offences.
Ministers insisted the government motion on 11 measures would be treated as a vote on the package of 35.
But John Bercow, the Speaker, undermined this position by saying "disinterested experts" had confirmed that the vote would have nothing to do with the European arrest warrant.
In an extraordinary attack on the government, the Speaker said: "I think I have given a fairly clear indication that this has been a sorry saga. And the house should not be put in this position. Most of us think that a commitment made is a commitment that should be honoured, and we should try to operate according to sensible standards, rather than try to slip things through through some sort of artifice.
"It may be the sort of thing that some people think is very clever, but people outside of the house expect straightforward dealing. And they are frankly contemptuous, and I use the word advisably, contemptuous of what is not straight dealing. Let's try to learn from this experience and do better."
He said that there was nothing in standing orders to allow a vote on one matter to be a "proxy" on something else.
Labour and some Tory MPs tried to make a symbolic protest by voting against a business motion that allowed for an extension of the debate beyond 90 minutes. However, this was very narrowly won by the government by 251 votes to 241.
Yvette Cooper, the shadow home secretary, said the debate was a joke and a shambles. She pointed out that Cameron only promised a few weeks ago in the House of Commons: "I am not delaying a vote on it. There will be a vote on it."
Culled from
The Guardian.