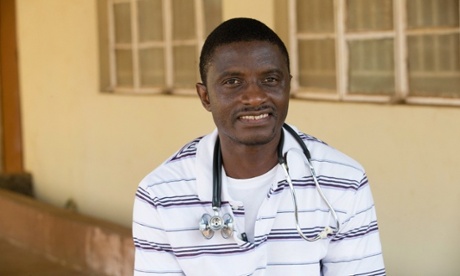 A surgeon from Sierra Leone who was being treated for Ebola at a Nebraska hospital has died, according to a statement from the hospital.
Dr Martin Salia, a permanent US resident, is the second patient to die of Ebola in the US. He arrived in Omaha on Saturday, having left Freetown on Friday by air ambulance. He was immediately transported to
Nebraska
medical center, where he began treatment.
"It is with an extremely heavy heart that we share this news," Dr Phil Smith, medical director of the Biocontainment Unit at Nebraska medical center and professor of infectious diseases at the University of Nebraska medical center, the hospital's academic partner, said in a statement on Monday. "Dr Salia was extremely critical when he arrived here, and unfortunately, despite our best efforts, we weren't able to save him."
Salia, 44, was not able to walk off the plane, as other patients brought to the US have been able to do. Instead, he was taken off the plane in an isopod, a special device designed to keep contagion from spreading. He was placed on a stretcher and loaded into an ambulance.
He was suffering from advanced symptoms, including kidney and respiratory failure, when he arrived at the
Nebraska
medical center on Saturday, the hospital said in a statement.
The hospital said Salia, whose family lives in Maryland, had kidney and respiratory failure and was placed on dialysis, a ventilator and multiple medications to support his organ system. He was also given a dose of convalescent plasma and began ZMapp therapy. It was not immediately clear who provided the doctor with the blood.
Salia was treating patients at United Methodist Church's Kissy hospital, which is not an Ebola treatment center, in Freetown when he fell ill. The hospital staff has been quarantined.
Smith said early diagnosis and treatment is critical to treating Ebola patients. The Washington Post
reported
that Salia had been misdiagnosed in Freetown, which delayed proper treatment for more than week.
"We're very grateful for the efforts of the team led by Dr Smith," Isatu Salia, the surgeon's wife, said in a statement provided by the hospital. "In the short time we spent here, it was apparent how caring and compassionate everyone was. We are so appreciative of the opportunity for my husband to be treated here and believe he was in the best place possible."
Salia is the second patient to die while undergoing treatment for Ebola in the US. The first, a Liberian man named Thomas Duncan, died in Dallas, Texas, in October after initially being misdiagnosed by a local hospital.
Culled from
The Guardian.