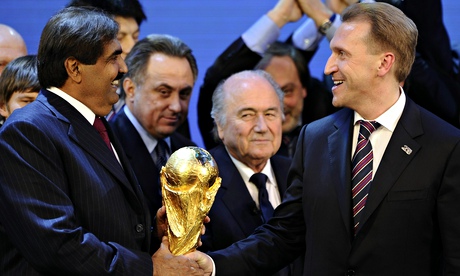 Qatar has been cleared to host the 2022 World Cup after Fifa's ethics committee ruled that any breaches of the rules were only of "very limited scope" and closed its investigation into the controversial bidding process.
As
revealed by the Guardian
, the governing body's ethics committee has decided that after an 18-month investigation by the former New York district attorney Michael Garcia there is not sufficient evidence to justify stripping either Russia or Qatar of the 2018 or 2022 tournaments.
The decision to award Qatar the tournament in December 2010 was hugely controversial, prompting an avalanche of allegations about the way it won the bid and concerns about the searing heat in which it would be played and the treatment of migrant workers building the infrastructure underpinning it.
But in a 42-page summary of Garcia's 430-page report, Hans-Joachim Eckert, the head of the adjudicatory arm of Fifa's supposedly independent ethics commmittee, said that while there were concerns over aspects of Qatar's bid they were not serious enough to warrant re-opening the process.
"In particular, the effects of these occurrences on the bidding process as a whole were far from reaching any threshold that would require returning to the bidding process, let alone reopening it," said Eckert.
Significantly, Eckert concludes that Garcia did not find any direct link between illicit payments made by the disgraced former Asian Football Confederation president Mohamed Bin Hammam, a Qatari who was banned for life for paying bribes during a campaign to unseat Sepp Blatter as Fifa president.
Garcia's report established that Bin Hammam made "several improper payments" to high ranking African football officials and paid $1.2m to the former Fifa executive committee member Jack Warner to stop him testifying against him. But it said that none of these payments were related to the bid for the World Cup.
It also found that Bin Hammam offered to pay the legal fees of the banned Reynald Temarii, the Oceania confederation president who had promised his vote to Qatar's rivals, in an effort to persuade him to appeal and so stop his replacement from taking his place and voting for Australia.
Again, Eckert found that while it was clear Bin Hammam supported Qatar's bid, "there is no direct link between the payments of Mr Bin Hammam to Mr Temarii."
He adds that had Temarii taken part in the vote, it would have made no difference to the outcome. Qatar received 14 votes in the final round of voting; Australia was elimated in the first round with just one despite spending $40m of public money on its bid.
Culled from
The Guardian.