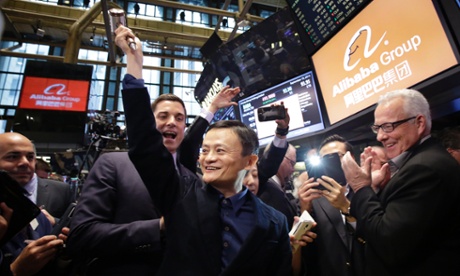 China's internet giant Alibaba released its first earnings report as a public company on Tuesday, announcing strong growth alongside a big hit to profits from stock awards made during its record-breaking share sale.
In September
Alibaba floated
on the New York stock exchange in the largest initial public offering (IPO) ever. Net profit for the quarter ended in September fell 39% to $494m, or 20 cents a share, thanks to the share-based compensation it gave out to staff during the IPO.
But outside that one-time expense Alibaba continued to exhibit strong growth. Excluding the share costs,
profit grew 16%
from the same period a year earlier. Revenue for the quarter rose 54% to $2.74bn.
"We delivered a strong quarter with significant growth across our key operating metrics," said Jonathan Lu, chief executive officer of Alibaba Group. "Our business continues to perform well, and our results reflect both the strength of our ecosystem and the strong foundation we have for sustainable growth."
The performance came even as China's economy appears to be slowing. This year the country is expected to record its weakest annual growth since 1990.
Alibaba, which operates Taobao and Tmall marketplaces, accounts for about 80% of China's online transactions, according to analysts. Taobao, the larger of its businesses, hosts millions of small businesses offering goods and services. Tmall is a retailer for global brands including Apple, Gap and Nike.
The two sites did a combined $90.5bn worth of business in the quarter through September, up 49% from a year earlier, Alibaba said. The percentage of business done through mobile transactions – the fastest growing area for online activities – also soared over the quarter. At the end of September mobile business accounted for 35.8% of the overall transactions on Taobao and Tmall, more than double the 14.7% they accounted for a year earlier. Alibaba has sold $95bn worth of goods via mobile for the 12 months ending in September the company said.
The number of active users on Alibaba's mobile platforms increased to 217m in September from 188m in June. "We are also encouraged by continued improvement of mobile monetisation which demonstrates the strong commercial intent of our users," said Lu.
Alibaba sold its shares at $68 in September's IPS; on Tuesday, they had climbed to over $103 before noon ET.
In a recent note to investors Jefferies analyst Cynthia Meng estimated that Alibaba will count half of China's 1.3bn people as customers over the next decade, up from less than a quarter now. She predicted rapid growth in e-commerce would offset a slowdown in China's economic expansion. "Among China's internet subsectors, we see e-commerce as the most favourable sector (followed by mobile games, and online travel) benefiting from the shift in internet user demographics," she wrote.